Bad news business and vacation travelers, those free computers that are in many hotel business centers have been infected with keylogger malware.  This means that whatever you are typing while sitting at one of these publicly accessible computers is being sent to a cyber-criminal somewhere.  Hopefully you are savvy enough to NOT be doing online banking or checking your brokerage accounts on these systems, but even just checking your email can open you up to having that account hijacked and your contact list harvested for spamming.
This information was reported by the US Secret Service and National Cybersecurity and Communications Integration Center (NCCIC).  Arrests have been made in the Dallas and Fort Worth area, where several hotel chains computers were affected by criminal activity.  Hotels across the US have been advised to have their computer systems checked for keyloggers or other similar exploits.
If you are in the habit of using public access computers in hotels, coffee houses, or public libraries, just be aware that the person who used it before you might just be a cyber-criminal.  These systems are not a good place to log onto any of your personal online accounts.  When I travel I am in the habit of taking my laptop with me, as inconvenient as that can be.  If you travel frequently, and you have an online life, then you really need to be traveling with your own device – a laptop, tablet, or smartphone that you can have some assurance is secure.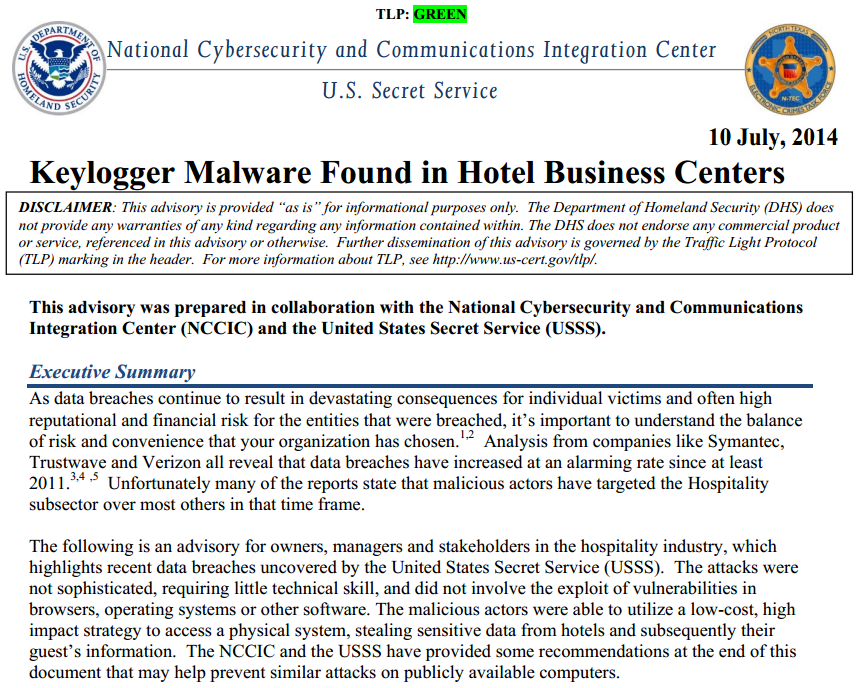 Share